Dennis Dabney
senior vice president, National Labor Relations and the Office of Labor Management Partnership
Jim Pruitt
vice president, Labor Management Partnership and Labor Relations, The Permanente Federation
The tempo of bargaining with the Coalition of Kaiser Permanente Unions picked up this week in Los Angeles, with Kaiser Permanente executives sharing an overview of KP's economic proposal with the 120 management and union members of the Common Issues Committee.
The financial discussion took place during the Tuesday, June 18, morning session. It included a period where members of the CIC, the negotiating body for these bargaining sessions, could raise questions and concerns — and they did, speaking passionately about the need to approach our Labor Management Partnership with fresh ideas and energy.
The KP proposal includes:
Pay increases in every year of the contract.
For current employees, beginning January 1, 2021, we're proposing to change the copayment schedule for medical benefits to include a $20 copay for office visits.
For future employees, we're proposing an updated package of benefits that better aligns with the market.
Kaiser Permanente's proposal is designed to balance 2 imperatives: We want to offer a market-leading package of pay and benefits to attract and retain the best people in health care — while ensuring we can deliver high-quality, affordable health care to our members and patients.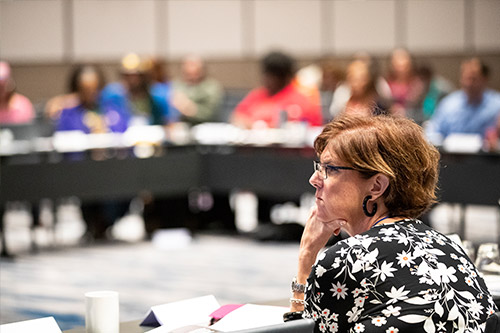 The bargaining team members broke into their 3 subgroups and continued to work Tuesday afternoon and Wednesday, using the interest-based process:
The Work of the Future subgroup heard presentations from the 2 LMP-supported education trusts. The presentations sparked ideas that could serve as the basis to lead the parties to a mutual interest.
The Operational Effectiveness and Quality Care Delivery subgroup has jointly developed 2 deliverables: How to eliminate workplace injuries; and how to forecast and outline the care needs of patients for the future.
In the Commitment to Partnership subgroup, the focus was on how to keep KP on the cutting edge of providing innovative care to our members. Flexibility in responding to member needs while supporting employee work-life balance and early partnership on major technological and other change projects were discussed.
For the latest bargaining updates and other materials for managers, please visit about.kp.org/together. The bargaining session will conclude Thursday, June 20.
To see more images of partnership in action, please visit our Partnership Photo Gallery.