Dennis Dabney – senior vice president, National Labor Relations and the Office of Labor Management Partnership, Kaiser Foundation Health Plan & Hospitals
Jim Pruitt – vice president, Labor Management Partnership and Labor Relations, The Permanente Federation
The negotiators crafting a new National Agreement between Kaiser Permanente and the Coalition of Kaiser Permanente Unions set to work developing joint options as the fourth bargaining session got underway on Tuesday, July 9, 2019, in Los Angeles.
The Work of the Future subgroup worked on 3 options that may become recommendations, and if so, they will move to the full 120-member Common Issues Committee for consideration. One of the key joint interests for the subgroup is to find ways to make it easier for current Kaiser Permanente employees to move into new, open, lateral, or advanced positions before outside applicants, and these options addressed that issue.
The process was both painstaking and collaborative, with productive give and take — and a round of applause at the end of the day acknowledging the subgroup's efforts.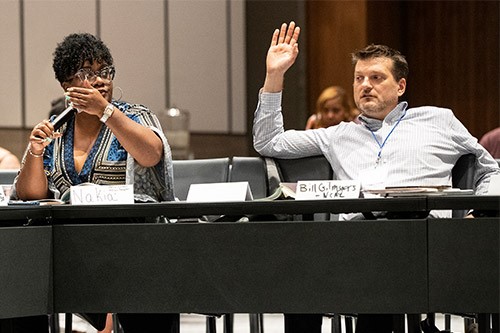 The other 2 subgroups, Commitment to Partnership and Operational Effectiveness, also made steady progress.
Partnership subgroup members worked on 2 options they identified as mutual. The first one is to revitalize Labor Management Partnership education and training. The group has discussed recommending a renewed focus on training that would target managers and union-represented employees and feature a standardized curriculum about the principles and responsibilities of partnership, with an eye toward improving performance outcomes.
The group's second joint option addresses the issue resolution and problemsolving process and calls for quickly resolving issues at the lowest possible level, with clear steps for escalation at the local, regional, and national levels.
In the Operational Effectiveness subgroup, 2 of the identified joint interests are eliminating workplace injuries and how to forecast the care needs of the patients of the future. Tuesday afternoon, the subgroup moved on to discuss staffing issues.
Another group of senior management and union leaders is working on the economic details of a potential agreement.
For the latest bargaining updates and other materials for managers, please visit about.kp.org/together.
To see more images of partnership in action, please visit our Partnership photo gallery.