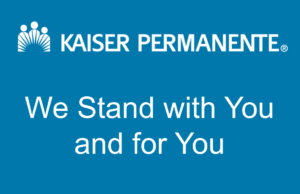 Calls for change and for greater justice for all continue across this country as people of all creeds, colors, beliefs, and backgrounds have taken action to help transform our nation into one that offers greater inclusiveness and equity for all. For the last several days we have heard in great detail about how systemic racism and social injustice have excluded Black Americans, other minorities, and other underrepresented groups of people from attaining not just their potential under the American dream – but simply living. This situation has to change, now.
Kaiser Permanente is committed to an inclusive, diverse workplace that provides an environment of equity for all who work here and for the people and the communities we serve. We continuously strive to improve upon the quality of care we deliver to produce better health outcomes for our members and to build healthier communities. At the same time there is a recognition that this organization cannot reach its full potential as a health care provider if groups of our people and various communities we serve have to live with the unspoken, but lingering fear for their physical and psychological health. And, if any point has been made over the last two weeks, it's that many of our people, their families and their friends contend with this is reality daily, while there are others of us who have never had to deal with these circumstances and don't understand how they can even exist.
This is why our organization is embracing the opportunity to listen, learn, and discuss racism, social justice, and racial equity, inclusion, and reflect on what has brought our nation to where it is today.
Please take a few moments to read the full messages from Julie Miller-Phipps and Ed Ellison, MD, and from our National Offices. They discuss Kaiser Permanente's commitment to equity, inclusion, and diversity and what steps are being taken to put actions behind the recent words. The messages also detail several upcoming opportunities to participate in listening sessions and webinars, and link to an excellent list of curated resources (note: login may be required).