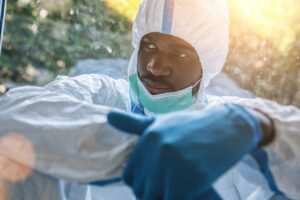 Keeping watch for PTSD and other mental health issues for clinicians on front lines of COVID-19
­­
The rising numbers of COVID-19 cases are staggering. However, when it comes to the mental and emotional toll inflicted by the novel coronavirus, some of the devastation cannot be quantified.
Over the last several months, the medical community has faced unprecedented challenges. As the pandemic plays out, the expectation is that a range of mental health issues could surface among health care workers. On the severe end of this spectrum are those who suffer from post-traumatic stress disorder or PTSD. An article in Permanente Medicine looks at this mental health condition, the statitstics, its symptoms, impact on specialties, sources of support and strength, and other related matters. Read more.