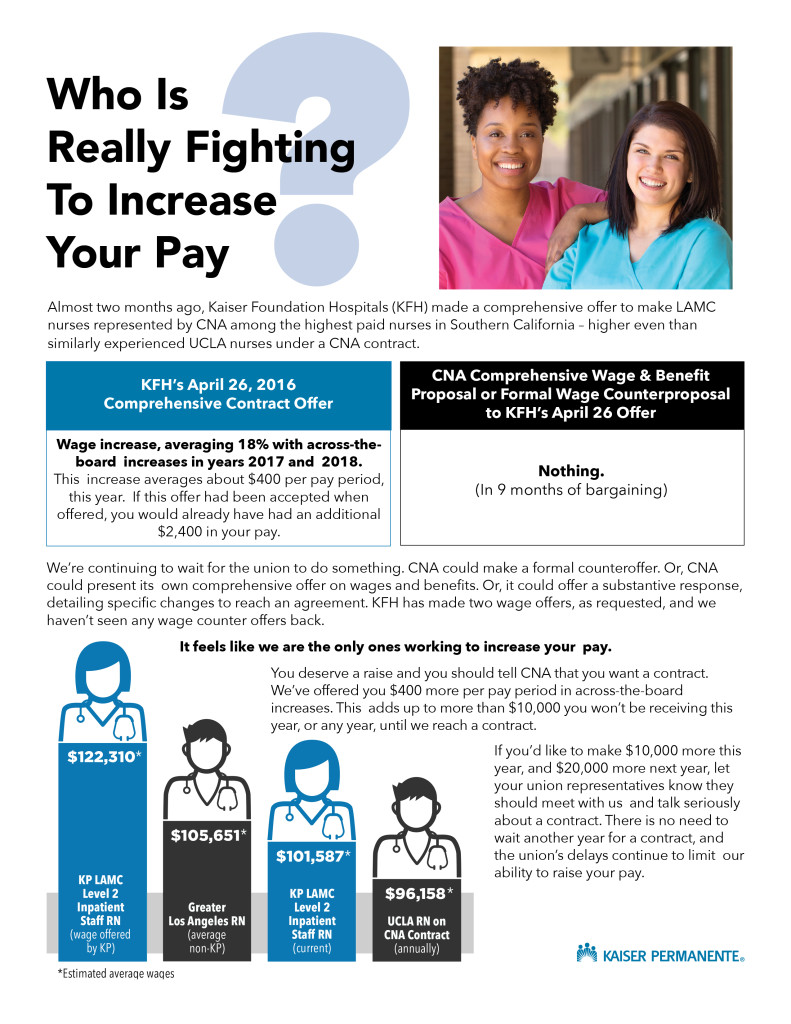 When we began negotiating with the California Nurses Association 11 months ago to establish a contract for the nearly 1,200 Inpatient, Home Health, Palliative Care, and Hospice nurses at the Los Angeles Medical Center, we committed to provide the LAMC nurses with accurate, timely information concerning our progress in bargaining and to correct the record when we learned of inaccurate or false information about the negotiations. We continue to do this in the belief that letting people hear both sides of an issue allows them to make an informed decision about that issue.
With this in mind, we want to correct recent misinformation regarding the current state of bargaining:
We've heard rumors suggesting that a possible agreement is imminent. While we wish that were true, the fact is we are not close to agreeing on a contract. We presented our comprehensive contract proposal on April 26, but we are still waiting for a comprehensive counteroffer or at least a wage and benefit counteroffer from CNA.
 Kaiser Permanente Southern California Region's wage position remains unchanged—we won't match Northern California wage rates. We have explained repeatedly that Northern and Southern California are two separate operating regions, each with its own set of operating needs and requirements. Our comprehensive contract proposal offers the LAMC nurses wages that would bring them on par with our other nurses in Southern California, and also make them among the highest-paid nurses in the region.
There's been no agreement reached with the union concerning a common contract expiration date that coincides with Northern California; nor has there been an agreement on the issue of back pay.
 Finally, rumors alleging that leaders at our Oakland headquarters have made agreements away from the bargaining table are simply not true.
Kaiser Foundation Hospitals wants to produce a fair labor contract with CNA. We believe our comprehensive proposal offers the means to accomplish this. We welcome the opportunity to discuss our offer's details with CNA's bargaining team, but in the more than four months since it was presented, we've had very little meaningful dialogue about the proposal.