1) CNA told us on the picket line that they "are at the point of no return," and that "this relationship is over."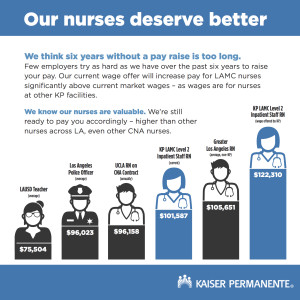 It's unfortunate that the union feels they "are at the point of no return." We believe we can still resolve our differences and issues at the bargaining table.
Your unions have taken you out of work and away from the bedside for eight strikes in six years while all other partner and non-partner unions have successfully reached fair agreements with KP.
KFH currently has an offer on the table that will increase your salary by an average of 18 percent. This means that you are leaving approximately $400 per pay period on the table.
2) CNA is wrong in its assertions that there are no other qualified RNs out there.
Our members' care and safety is always our highest priority, and we ensured that LAMC was fully staffed with over 500 qualified and competent RNs. Nor did LAMC turn away any patients who presented for care during the strike.
3) CNA"s picket signs read: "Kaiser open for premiums and closed for safe patient care"
With three strikes by NNU nurses (CNA parent organization) in three states – all timed "to make it harder for the hospitals to find enough fill-in workers." (Source: The Boston Globe, 6/24/16), how comfortable are you with the union asking you to leave your patient's bedside?"
4) We heard from many of you that you personally did not want to strike – clearly that was true. 
Here's a photo of the turnout for the Thursday, June 23 noon rally. We estimate 100 people wearing red shirts, not all are from LAMC. We were also told that many of our nurses learned of the strike through the "rumor mill," versus hearing about it directly from the union.