Classes Start at New Kaiser Permanente Bernard J. Tyson School of Medicine
This past week we marked Kaiser Permanente's 75th anniversary – that's 75 years of dedicated, compassionate service in adding more healthy years to the lives of our members and communities. Our beginning was founded on a vision that there was a better way to keep people healthy by using a pre-paid group practice – an approach that could improve access to high quality, equitable care. That vision also included health care delivery based on prevention and evidence-based medicine, continuous education and learning for our physicians and staff, and interdependent consultation among health professionals to improve care outcomes.
T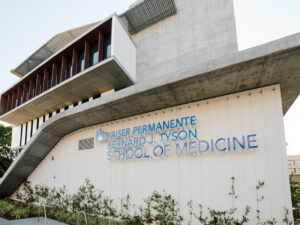 oday, we're continuing the advancement of our founding vision for better care outcomes and healthier communities – but we're taking it to a whole new level with the entry of the first class of 50 medical students at the new Kaiser Permanente Bernard J. Tyson School of Medicine. The school was founded on the belief that there was a need for change in the way medical education prepares future physicians to address the 21st century health needs of diverse patients, consumers, and communities.
Nearly 5 years ago, when we publicly announced our plans to open the School of Medicine, Bernard J. Tyson, chairman and CEO, Kaiser Foundation Health Plan and Hospitals, said: "Opening a medical school and influencing physician education is based on our belief that the new models of care mean we must reimagine how physicians are trained. Training a new generation of physicians to deliver on the promise of health and health care demonstrates our belief that our model of care is best for the current and future diverse populations in this country."
As School of Medicine students begin their first year of education, they will begin learning the tenets of Kaiser Permanente medicine and our system of care from a world-class physician faculty who embody the medical excellence we have at the center of our mission. Students will work with primary care preceptors all year, giving students the opportunity to form relationships with patients and clinical mentors over time. The school will immerse them into clinical experiences in designated KP medical centers using small-group, case-based medical curriculum in a safe, socially-distanced learning environment that embraces all dimensions of diversity and values students' well-being.
Just as with Kaiser Permanente's founding, the school will prepare future physicians to become collaborative, transformative physicians and physician leaders committed to prevention, fluent in data-driven care, and adept at addressing the needs of underserved patients and communities. They will become effective patient advocates by focusing on prevention and evidence-based medicine, while learning to critically examine factors beyond the walls of our medical facilities that influence their patients' health, including social, economic, and environmental factors. When they graduate, we expect they will enter residency programs in a range of specialties at institutions across the nation.
The visionary idea for the School of Medicine was brought to me by SCPMG's Michael Kanter, MD, Marc Klau, MD, and Nancy Spiegel when I first assumed the role of SCPMG executive medical director. I engaged Bernard J. Tyson who was new in his role as chairman and CEO of KFHP/H. Bernard soon also became an avid believer and the two of us championed the school within the Permanente Medical Groups and KFHP/H. It took nearly a decade of work to bring us to where we are today, and while we can't list all the individuals from Health Plan/Hospitals and Permanente Medicine in this message, we'd be remiss if we didn't acknowledge the cumulative devotion and interdependent effort undertaken by a legion of Kaiser Permanente builders who brought about the development and creation of the School of Medicine. We are profoundly grateful for Bernard's invaluable support. He joined us in believing deeply in the school's mission to help transform health and health care in America. Bernard died unexpectedly in his sleep last November, but his vision for Kaiser Permanente carries on.
Today is a great day for Kaiser Permanente and for America. Years from now, we expect people will see a new chapter added to our nation's health care history. It will be a narrative that describes how the Kaiser Permanente Bernard J. Tyson School of Medicine's new and better direction in medical education produced better health outcomes. It also will include examples of these future physicians' enduring accomplishments. Their results will ensure continued strengthening of the legacy begun 75 years ago by Dr. Sidney Garfield and Henry Kaiser.
We see a bright horizon for health, health care, and medicine in America. We congratulate the School of Medicine on its opening and we wish the greatest possible success to its first class of students. Please join us in warmly welcoming the students into the Kaiser Permanente family.
Thank you.